Contemporary Galleries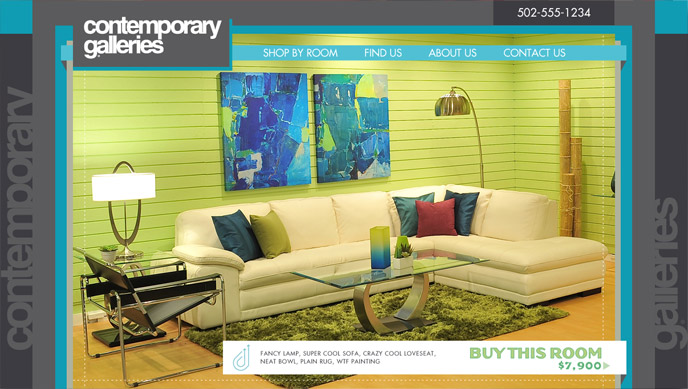 If your brand name is "contemporary," you need a modern, fresh web site. Contemporary Galleries website had begun to look out-of-style, so they came to us to bring them up-to-date. We convinced them to take the web experience into their showroom, by dedicating floor space each month to a room design that would be featured prominently on the website, with callouts to purchase either individual design elements, or "Buy the Room" and have their designers re-create the design in their homes (including paint!). In addition, we integrated their out-of-home and digital marketing by using QR technology in their billboard.
visit website
From Our Blog
Of course I'm not talking about you...but people are, as a whole, lazy. Don't make them think. Don't stress them out. Make their experience smooth, painless & downright fun and you'll have a customer for life. Bad or good you can bet they'll post it on facebook, twitter, yelp & google plus before they step away from their desk. A well thought out user experience design can make sure you're business is getting hype for the right reasons.
deanna
Designer & User Experience Expert
Joseph
CNG

"A remarkable collaboration. Shared creative and design values resulted in a website design that met, and in most cases, exceeded my expectations and vision. "